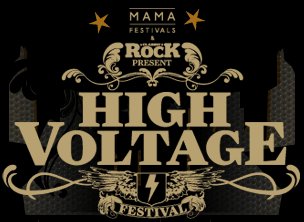 The brand spanking new rock festival High Voltage kicked off this weekend, promising to give rock fans exactly what they want - a diverse selection of rock and metal in the heart of England's capital. With so many well established rock and metal festivals already out there, High Voltage had its work cut out. Presented by MAMA Festivals and Classic Rock Magazine, the organisers boasted an absolutely incredible line-up across three stages and two days, including one-off appearances by Emerson Lake & Palmer and ZZ Top, and a tribute to the legendary Ronnie James Dio, performed by Heaven & Hell.

Saturday kicked off with the official opening of the Metal Hammer Stage by UK rockers New Device, whilst the Prog Stage welcomed the progressive stylings of Touchstone. Next up, fresh from playing Manchester's SOS Festival and opening for Ozzy at the iTunes Festival, was gritty underground rock warriors Black Spiders. Now, despite Victoria Park being hotter than hell, these boys rocked, incredibly hard. What I loved about their performance was the sheer enjoyment the band appeared to have whilst blasting out songs from their new EP, 'No Goats In The Omen' and its predecessor, 'Cinco Hombres (Diez Cojones)'. Afterwards, I excitedly hot footed it across to catch infamous Dutch proggers Focus. Most folk will know these guys from their awesome track 'Hocus Pocus', but they're so very much more than that. The band's leader, classically trained organist/flautist Thijs van Leer belted out classics such as 'Answers? Questions! Questions? Answers!', 'Sylvia' and of course, not forgetting 'Hocus Pocus'. Incredibly, van Leer still has the finest yodel in the yodelling world, which was echoed by the sea of fans, with younger audience members helping him out hitting those 'high notes'.

Other acts from the Saturday afternoon include London's finest stoner metal band Orange Goblin and Gothenburg metallers Hammerfall, who take over the Metal Stage with a fiery performance. Over on the prog stage, Californians Bigelf draw a massive crowd with their doom-infused psychedelic delights. Front man Damon Fox, sporting his iconic top hat and accompanied with his organs, goes hell for leather, bashing out a captivating performance. These guys certainly won the audience over; there's something about Bigelf's sound that is so charismatic and addictive, and I wouldn't be surprised if you see more of these boys. Then on the Metal Hammer Stage, Lee Dorrian's Cathedral embrace High Voltage with their groovy doomtastic metal, whilst the delightful Dweezil Zappa, beloved son of the later Frank Zappa, kick things off again back on the Prog Stage. Okay, it's not Frank but he would be bloody proud of Dweezil, who delivers an innovative yet unique performance.

By the early evening, I had to take a step back and simply say "wow". The day wasn't even over and we still had the likes of Heaven & Hell, Saxon, Asia, Black Label Society, Transatlantic and ZZ Top to experience. I knew the evening would prove to be a tricky, yet exciting one... I was really keen to check out everyone, so with a Gaymers Pear Cider in hand and an emergency can of Red Bull in the bag, I made the mission to catch metal legends Saxon, who never disappoint with their tight and powerful performances. Next stop was Asia, who took to the Prog Stage with a fabulous mixture of both old and new songs.

Then it was time for the performance every Heaven & Hell fan had been waiting for...

Whist walking across to the Main Stage, I knew this performance by Heaven & Hell was going to be incredibly emotional, not just for the band but for the thousands of Dio fans in the crowd. However, a fabulous and fitting tribute to Dio was performed by Geezer Butler, Tony Iommi and Vinny Appice, along with guest singers Jorn Lande and Glenn Hughes. The performance was one of remembrance, but also of celebration, a reminder that Dio's legacy will continue to live on. Personally, I found it extremely difficult to hold back the tears when Dio's wife Wendy joined the stage and spoke movingly about Ronnie and how he would have loved to have been here. Probably one of the most random and highly surreal moments of the set was when Phil Anselmo jumps security and dashes on to the main stage to join the band for the encore of 'Neon Knights'. All in all, the entire set was a stunning, heartfelt performance - one I'll genuinely never forget.

It was then another energetic sprint to catch Black Label Society rip up the Metal Hammer Stage, but unfortunately, I only managed to catch the last couple of songs, namely 'Suicide Messiah' and 'Concrete Jungle'. Finally, super group Transatlantic took to the Prog Stage and concluded the Saturday in style, with Steve Hackett joining the band to perform 'Return Of The Giant Hogweed'. The Saturday ended with a purely delicious headline performance by the spectacularly awesome ZZ Top. It was great to hear them play such classic tunes as 'Gimme All Your Lovin'', 'Sharp Dressed Man' and 'Legs'. Okay, so maybe some of their performance was a little predictable, but it was great nonetheless and served as a fitting closer to first day.

So... after a rather late evening riddled with copious amounts of Jäger, I was up bright and early (with ever so slightly bloodshot eyes) for the second instalment of High Voltage. Kicking off the proceedings at the Prog Stage were The Reasoning, closely followed by authentic rock 'n' rollers The Quireboys on the main stage, who in recent years have really picked up their game and revived their positioning within the rock circuit. Next up on the Prog Stage was Martin Turner's Wishbone Ash, who delighted the fans by playing their seminal 'Argus' album in its entirety. Whilst walking over to the Main stage to catch UFO, I decided to check out High Voltage's Eagle Vision Cinema. The pop-up cinema (co-programmed by the Cambridge Film Trust) offered audiences a unique selection of clips, ranging from live concerts to rock documentaries - which I thought was pretty cool - however, I was at a festival - so didn't fancy sticking for around too long!

Now, UFO... well these legendary British rockers have changed somewhat over the years, with various members coming and going, but I'm not one to judge these boys, so wanted to see exactly what they could pull out of the bag. Sadly, they left me feeling quite disappointed and a little disheartened. Things went tits up when Vinnie Moore's guitar refused to work, leaving the audience a little confused. It took a while for Phil Mogg to gain the crowd's attention; clearly trying to make light of the balls up, he shouted to the crowd: "This is why we never made the X Factor". After what seemed like a good 10 minutes or so off faffing and chit chat, they continued on with their set, filled with classics such as 'Hell Driver' and 'Doctor Doctor'.

I managed to catch a glimpse of veteran Canadian rockers Bachman & Turner play 'You Ain't Seen Nothin' Yet', but it was only fleeting, as I wanted to catch High On Fire, who dominated the Metal Hammer Stage from start to finish with their fiery metal riffs. Next to grace the Metal Hammer Stage was Clutch, who gave the audience an ass kicking with their fusion of hard rock and bluesy undertones. Clutch are an amazing and underrated live band, and an absolute pleasure to watch.

Okay... so you've probably gathered that I didn't move too far from the Metal Hammer Stage on the Sunday - right? With performances coming from Audrey Horne, High On Fire, Clutch, Opeth and Down - it was hard to resist. Next up are the truly incredible Swedish progressive death metallers, Opeth. I've seen the boys play well over a dozen times, and they never disappoint. Led by the charismatic and creative driving force Mikael Åkerfeldt, the band ploughed through a number of firm favourites including 'Windowpane', 'The Lotus Eater' and 'Deliverance'. I appreciate Opeth may not be to everyone's tastes, however, you really couldn't fault their performance, which was truly captivating.

It had been a while since I had seen Down perform live, so I was particularly looking forward to catch Mr Anselmo et al. In good old Down style, the doomy, sludgy super group made the crowd go absolutely mental within the first few bars of their set. I also discovered that they're in the process of writing a new album, although they kept it safe playing classics including 'Lifer', 'Temptations Wings' and 'Stone The Crow'. These fellas are cracking musicians, which was more than proved throughout their performance.

By this point, I was well and truly knackered and was ready to chill out and enjoy a very special one off performance by ELP. I'll be honest, I'm not the biggest fan of ELP but wanted to give them a shot, so I found a nice little patch of grass and chilled out whilst watching the set. By this point in the evening, the Main Stage area had already started to empty out, but this didn't deter the hardcore ELP fans, who sang along whole heartedly to songs such as 'Knife Edge', 'Touch and Go' and 'Lucky Man', and as the set came to a close, that was it: High Voltage was over!

It was truly an awesome weekend. What I loved so much about High Voltage was the people and music, and the sheer level of care that had been taken to organise the festival. It was an absolute delight to discover a real ale bar, along with a fantastic range of food and drink selections: not a greasy burger van in sight! Instead, High Voltage treated its festival goers to the delights of a genuinely awesome farmers market, and even a Pizza Express. Staff and security were plentiful and incredibly friendly; in all honesty, I can't fault High Voltage as a festival; it was an incredible experience and gave rock fans exactly what they wanted, a true rock and roll festival, curated by rock fans for rock fans.