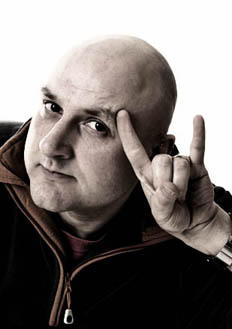 I was born in 1964 which makes me old enough to be the grandfather of the world(!), in West London. I still live in London, with my partner Deb and our two troublesome cats and and two equally troublesome rabbits!

I've been interested in photography for over 20 years and as my advancing years left me feeling a bit out of place at gigs, I looked to taking pics to make me less obtrusive! This soon developed into a mini obsession. I've been into music forever, starting with punk and graduating through hardcore into metal and now a combination of the lot! Now I take pics and write live reviews for various people including Angel of Metal!!

Prior to settling down I was in loads of punk and metal bands, did a couple of shoestring tours in Europe which were awesome fun! I then concentrated on solo stuff - with little success! To be honest, this has taken a back seat to the photography over the last few years. I still listen to my own stuff occasionally and am still writing, I'm probably the only person who thinks it is any good! (If you want to know what kind of noise I make, drop me a mail!!)

Iím a vegan, too. Not so strange these days but I remember when if you told someone you were a vegan, you may as well have grown an extra head and started talking in tongues!


Nationality: British
Favourite food: anything vegan!
Pets: Mikey, Jordy (the cats) and Crimbo and Bunty (the rabbits!)
Additional Interests: Life, art, anything that makes me think!
Favourite book: Chronicles of Thomas Covenant, The Unbeliever
Favourite movies: Jacobs Ladder
Things I want to do before I die: See the Northern Lights
Claim to fame: I saw Metallica at the Marquee!